10 Essential Paperless Tools That Will Save Your Business Time and Money
We have all been in a situation in which we begin to think about the tools we currently use in our business and we ask ourselves, "is there a similar tool out there that we can use to manage this better?" or "is there an alternative online tool we can use to help reduce or eliminate paper based documents?". Well look no further!
We're always looking for ways to make our business and our clients' businesses more efficient; these tools can do just that. Hold tight while we run you through the top 10 online tools you should be using to make your business more efficient.
1. LastPass - A password management system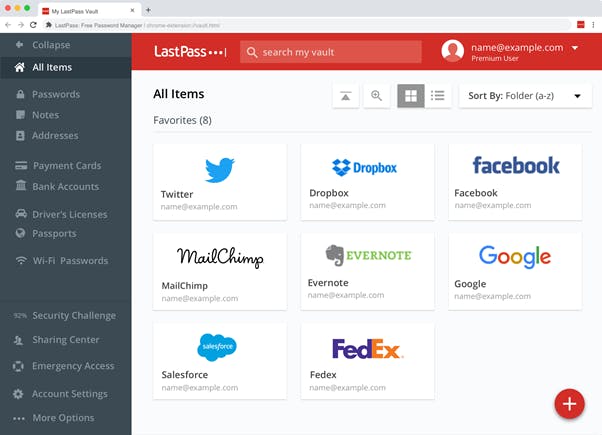 Ah, LastPass. The King (or Queen) of password management.
LastPass is an internet-based password management system that keeps all of your passwords safe and secure for any online account. The key benefit here is that you only have to remember one password and LastPass does the rest. Don't worry though, LastPass stores your password in a way that makes it technically impossible for even them to see it. It has also been heavily audited and is trusted by some of the largest organisations in the world.
Here's why LastPass is beneficial for your company:
You will never have to write down important passwords in books or on sticky notes again, overall making it a safe and secure environment to store your passwords and working your way towards an environmentally friendly workplace
Your business and even your clients' businesses will be better protected by storing passwords safely
Your clients and colleagues can easily share account details with you via LastPass, so you will reduce the risk of being hacked, and better comply with GDPR
It ensures you are using secure passwords, and remembers them for
Saves time by reducing the number of forgotten passwords
Find out more about how LastPass can work wonders for your business by visiting https://www.lastpass.com/. 
2. Dropbox Business - A file hosting service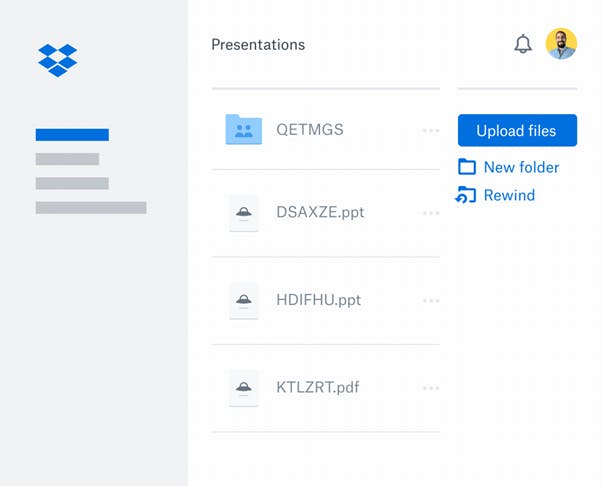 Dropbox is a popular file sharing system which securely stores your files and makes it easy to share them with colleagues and clients. Dropbox Business includes everything your team needs to be productive, including storage to back up files, collaboration tools, version histories for all files, a central hub for team content and advanced security and sharing controls. Dropbox Business is famous for its ease of use and has over 500 million users!
Here's why Dropbox is beneficial for your company:
It helps you to get rid of those overflowing filing cabinets that take up unnecessary space in your workplace
Both you and your team can constantly update and edit files without wasting so much paper when doing so
It is a timesaving and moneysaving alternative to printed documents
Dropbox is available across all major devices and platforms, so users can view, upload and update documents inside the workplace, in meetings and even on the go via the Dropbox mobile app
All documents can be automatically uploaded to and synchronised in Dropbox, so this will prevent your business from being in the "Which computer is that file on?" situation. You've also got added protection when computers fail, and if you have no backup solutions at all, this is a quick and easy way to get some protection
If you think Dropbox Business will benefit your business, follow this link to try it free for 30 days https://www.dropbox.com/business. 
3. Harvest - A web-based time tracking tool
Harvest is a simple time tracking tool that the whole team can use to keep business projects on time and on budget. Importantly, it allows you to see how much time has been spent on a project, how much money the project has cost you and then how profitable the project was. Having this data ensures you can find ways to automate time consuming tasks or stop doing the things that do not benefit your business. This helps you to save time and money immediately, rather than by implementing a trial and error process and reaching the same result in the future.
Harvest's timesheets are accessible on all major devices from computers to smartphones, so your team doesn't have to wait until they are next at work to input the additional time they spend working on a project elsewhere. The timesheets can also be viewed in two formats; on a day-by-day basis in which users can see how much time they have spent on different projects throughout the day, or on a weekly basis which shows current projects and how much time was spent on each one throughout the week.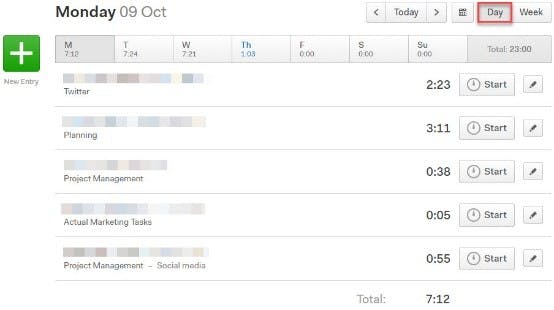 Here's why Harvest is beneficial for your company:
You don't have to print out a document that states the estimated times given to complete each task
It acts as a timesaving tool, so your team is well aware of how long it actually takes you to complete the project, therefore eliminating the confusion and miscommunication when a task takes longer than anticipated
You have full visibility on how much time is spent on each task or project
It's super easy to then bill a client, and you have exact timesheets to back this up
It gives you the information you need to make better decisions and allocate resources to profitable activities
Find out more about how Harvest can benefit your business here https://www.getharvest.com.
Harvest users can also take advantage of the Forecast tool which allows team members to schedule the estimated time it would take them to complete a project and it indicates the date and time by which the project would need to be completed. Forecast also shows the team's availability so team members will know whether to assign additional or fewer tasks to a team member.
4. Xero - An online accounting platform
Xero is an online accounting platform which gives you real time insight into your cashflow, bank balances, P&L statements and much more. If you feel like you need more visibility with your business finances, this is the tool for you.  Xero makes it easier for you to run your business and it provides you with peace of mind by automatically backing up your data, provides integration with many other tools to automate workflows and allows you to access all of this on the go.
Here's why Xero is beneficial for your company:
It helps you to reduce manual data entry of your payroll and accounting, making it a very convenient timesaving tool
Once created, custom purchase orders can be emailed and copied to bills for payment, therefore reducing the amount of unnecessary paper used in the workplace
It helps you to eliminate the time spent chasing unpaid invoices by providing an online payment service, and it recently partnered with GoCardless to automate collection of these payments
You can stay productive on the move by being able to run your business from the palm of your hand
It provides a clear financial overview on the dashboard to easily identify how much money is coming in and going out of your business, allowing you to stay in control of your finances
If that's not enough, Xero also throws in features such as easy invoicing, payroll and claiming expenses into all of their plans, all from as little as £10 per month. If you would like to know more about what Xero can offer your business, simply follow this link https://www.xero.com/uk/.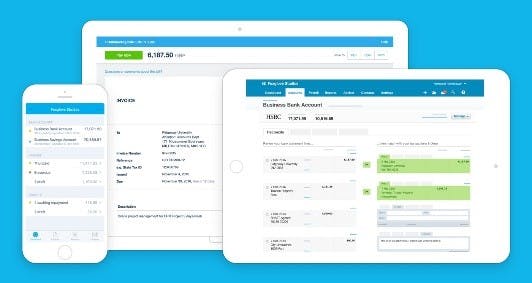 Source: Xero 2017
5. Trello - A web-based project management tool
If you're the type of person who hates clutter in your workspace, keeps losing important sticky notes or has multiple 'to-do' lists then you're going to love Trello!
Trello is a project management tool which helps your team to organise work projects, keep on top of upcoming deadlines and find out which stage each project is currently at. The best way to use Trello is to view the project as a journey; start by placing a card in an 'activities' column and keep moving the card through the columns as you make progress, until it reaches the 'done' column at the end. You can create additional columns and delete or edit any of the existing columns to match your preferences.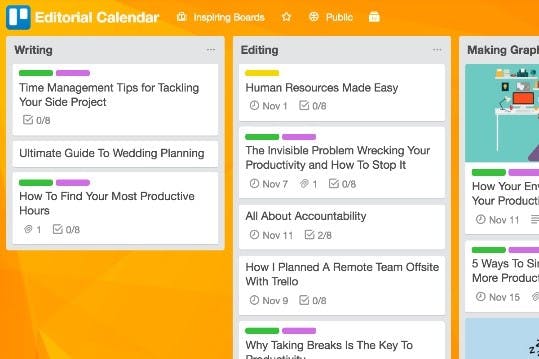 Source: Trello 2017
Here's why Trello is beneficial for your company:
It eliminates the time spent sending emails or paper messages on sticky notes and scrap paper to your colleagues to update them on a project
The progress of your project can be viewed all in one place, so you can see what other people have worked on and how they have contributed to the project
Any member of the team can attach pictures, files (even from Dropbox!) and hyperlinks to any of the cards, as well as project information and the option to provide additional comments on the activity. Each task can become an independent discussion, removing the need for horribly confusing email chains
You can select members of your team to be made responsible for cards to ensure the task is completed by the deadline date
You can instantly evaluate the status of a project without pestering team members
Above all, Trello provides a simple version of project management which is particularly useful if you have multiple projects on the go, all at the same time. Now it's time to throw away those sticky notes and give Trello a try at https://trello.com/.
6. Slack - A professional messaging service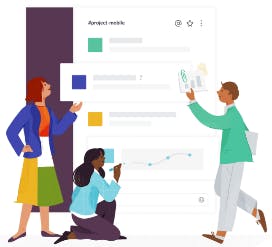 Slack is the foundation for teamwork and it is designed to make the workforce more productive with a reduction in stress when communicating with one another, both inside and outside of the workplace. With the ability to create different channels for each project, all slack conversations are focused and kept in one place which makes it quicker and easier to find files, calls and messages.
Slack allows colleagues to create and participate in both group and private conversations so they will no longer need to use multiple platforms to get in touch. Slack is free to use, and you can add as many team members as you need.
Here's why Slack is beneficial for your company :
Like Trello, you no longer need to pass notes through the office or produce a long email chain in order to complete a project - Slack keeps all of your notes and discussions organised and in one place for easy reference
In addition to note sharing, you can attach images and documents to your slack conversation to assist with getting your point across
Allows staff to keep in touch when working remotely, or even at the other side of a huge office
Keeps discussions relevant with channels, and create more relaxed channels so your staff can socialise and build relationships
Discuss a specific topic without distracting others from their work
Make your business communication more efficient by downloading Slack here https://slack.com/.
7. Hootsuite - A social media management platform
Are you wasting time posting individual updates on different social media platforms each day? Use Hootsuite instead!
Hootsuite is a fast and efficient tool used to schedule or instantly send all your social media posts onto different online platforms, all from one place.
When using Hootsuite, simply select which social media channel(s) you would like to post an update to, and start writing your message. If you select your preferred social media channel beforehand, Hootsuite will tell you how many characters you have left before the character limit is exceeded - this is particularly useful for platforms such as Twitter and their reduced character limit.

Source: Hootsuite 2017
If that's not enough, you can check your social media analytics at any time and over any duration by using Hootsuite Analytics. This will tell you how many tweets were posted, your engagement for those tweets, traffic accumulated on your selected platform, inbound messages and other useful features such as likes, shares and retweets.
Here's why Hootsuite is beneficial for your company:
You can schedule your social media posts for any time in the future, allowing you to work smarter
See insightful reports and statistics from one place, showing you how well your marketing activity is performing
It helps you to avoid printing out documents that include future posts for other team members to verify. Instead, they can log into Hootsuite to check over posts before they're released
Be more efficient with your marketing, allowing you to spend more time on idea generation rather than the drudgery
You can find Hootsuite here https://hootsuite.com.
8. Pipedrive - A cloud-based sales software company

Pipedrive is an easy-to-use tool which is designed to keep your sales organised. This tool is particularly useful for individuals who are new to sales, as Pipedrive provides the basic knowledge to get started. It is a platform that pushes you to succeed. It is also useful for established businesses with sales teams, as it produces handy reports on sales performance, broken down per month and per staff member.
Here's why Pipedrive is beneficial for your company:
You can receive activity reminder emails so, like Trello, you get notified during the process of an activity instead of relying on your co-workers to update you
There is a mobile app version of Pipedrive, so you can potentially work from anywhere that suits you. This also acts like an alternative to printing the information you need, because your mobile is always with you
See which deals are going stale, ensuring no deal falls through because of lack of contact
Pipedrive works in a way that requires minimum input but you receive maximum output when using the software, therefore you save a lot of time and the team becomes much more productive
Pipedrive is used by well-known companies - such as Amazon, SkyScanner and Vimeo to keep track of their sales and it gives you the option to try out Pipedrive completely free of charge. If you think Pipedrive is for you, there are multiple plans to choose from so you can find the best plan that suits your business.
Follow this link if you would like to give Pipedrive a try https://www.pipedrive.com/en-gb.
9. Mailchimp - A marketing automation platform
If you haven't heard of Mailchimp until now, today is your lucky day!
Mailchimp is an email marketing tool which allows you to create and automate email campaigns, so you can keep in touch with your clients and prospects more efficiently - all while being GDPR friendly. Mailchimp is designed to save your business time and money by allowing you to schedule or launch a campaign with just a click of a button, on a free and easy-to-use platform.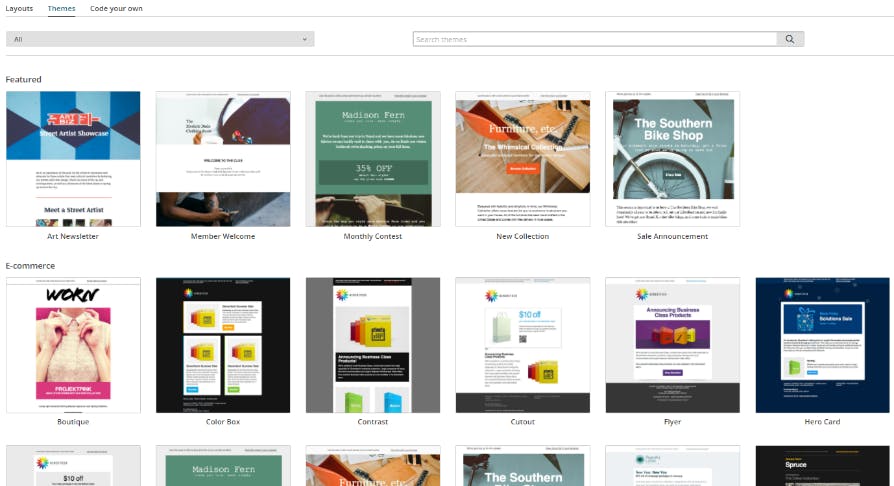 Source: Mailchimp 2017
Follow this link to find out more about Mailchimp or to create an account https://mailchimp.com/.
10. Canva - A free graphic-design tool website
Canva is designed for professionals who have little to no graphic design experience, but they still need to post frequent updates with great images on social media. It is free to use and you can create images for all purposes, all in one place. Choose from flyers, to social media posts, to email headers and everything in between and take advantage of the easy-to-modify existing templates, or just create your own!

Source: Canva 2017
All of your images are saved in Canva - or you can create up to two folders if you wish - and they can be easily downloaded and saved to your cloud based file sharing platform. If you need more than two folders, simply upgrade your account to 'Canva For Work' where you can create as many folders as you need. You can even add multiple team members to your account which is very beneficial if you are part of a small online marketing team and you all need instant access to the images without using a memory stick.
Here's why Canva is beneficial for your company:
Once you have completed your Canva design, you can instantly share it on any social media platform as it will already be the right size for you to do so
Canva is free to use, with no limit on how many designs you can do, so you can create as many as you wish
You can save money by creating your designs yourself. A professional marketer generally uses platforms such as Canva to create content for their social media posts, but they outsource their major design work to an experienced graphic designer
Canva is great for social media managers to use when they need a simple design to be created instantly for their posts
Give it a try at https://www.canva.com.
Summary
Now that we've given you a quick rundown on what we think are the 10 best business tools that help you to save time and money and to eliminate paper-based processes, which ones are you raring to try? Are you currently using any online business tools that we haven't already mentioned?
Whether you are a new business, or you've been operating for quite some time, we're confident at least one of the 10 great tools will make a positive impact on your business. Each tool has very different benefits that are utilised to improve your business processes. This will allow you to provide a better product or service to your customers.
Need some professional help, or have a problem that can't be fixed by a tool above? Call us today on 0191 259 1272 for more information about our digital reviews.